Microsoft is expected to introduce the latest version of Windows 11 in September. It is called 22H2, but the name is subject to change. We'll explore everything we know about the upcoming update.
When will the Windows 11 update be released?
As promised, Windows 11 will continue to evolve and improve with this year's major update, after a slow rollout last year. The new version could be released as early as September, but the Microsoft event scheduled for October 12-14 looks set to host the big reveal. This would also be almost a year after it was first released in 2021. This update has been in the works for several months with the Windows Insider program testing the preview build. If you're a member of the Windows Insider Program, you can download the almost complete Windows 11 update today.
What's new in the Windows 11 update?
Unlike previous updates, this version will be a true evolution. Remember that unlike what was done a few years ago with Windows 10, Microsoft has decided to implement only one "big" version of its system each year, bringing real functional innovations —like Apple—, instead of interim (maintenance) updates, primarily used to fix minor issues and improve stability.
Considering the various flaws and shortcomings of the current Windows 11, the 22H2 update could be considered the first truly finalized version of the new system. Here are the main improvements and features you will find when you update your operating system to this version:
File Explorer: Windows 11 Explorer will show you folder icons with a preview of their contents. Microsoft is also promising better integration of OneDrive, its standard built-in online storage system. And icing on the cake: the explorer will have tabs to facilitate navigation in a single window, like in web browsers.
The Start menu: The revamped Windows 11 Start menu will offer the ability to create folders to group apps together. It will also offer a new setting to choose the number of pinned and recommended items.
Taskbar : The taskbar also evolves allowing you to drag and drop files into apps, like in Windows 10. It will also show a three-dot menu with which to hide or show additional apps to avoid overflow. We don't know yet if we can move it to put it elsewhere on the screen, like in Windows 10.
Quick settings: The control area to the right of the taskbar will host new options, in particular for controlling Bluetooth devices, which are increasingly numerous and varied.
Interface: Microsoft continues the aesthetic modernization of its system by adapting many old modules to the style of Windows 11, for example with windows with rounded corners.
Window docking: The window docking (snap) feature introduced with the first version of Windows 11 gets a new interface that lets you create docking groups by simply dragging and dropping them at the top of the screen.
Task Manager: The Windows task manager adopts a new, more modern interface, with dark mode, displaying more information and efficiency mode, to control the resources used by applications.
File Sharing: Microsoft aims to improve and simplify file sharing between Windows 11 computers located on a private local network, thanks to the Near Share function, which also uses Bluetooth.
Windows Security: The module that manages all Windows 11 security systems includes a new feature, Smart Application Control (Smart App Control or SAC), capable of automatically blocking malicious or unapproved applications.
Ransomware Protection: Windows 11 will include an automatic account lockout feature to prevent increasingly frequent ransomware attacks. This tool will also be available for Windows 10.
Widgets: In the latest version of Windows 11, widgets will improve further by opening up in particular to third-party publishers (excluding Microsoft) to offer various functionalities in modules.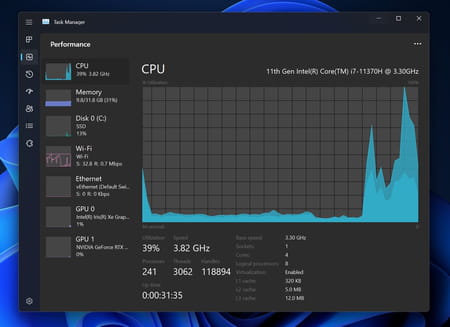 Energy saving: The power management system will be optimized to intelligently reduce PC power consumption. An advance that is part of Microsoft's program to make Windows more respectful of the environment and energy resources.
Updates: In addition to Windows Update, it will be possible to uninstall updates from Windows 11 settings.
Voice command: A new feature will allow you to control your PC with your voice.
Gesture control: Windows 11 will manage new gestures, especially for touchscreen tablets.
Tuning assistant: The Focus feature, which saves you from being disturbed by multiple notifications, will allow you to create personalized sessions.
Running Android: Windows 11 22H2 will finally let you run Android apps, opening up Windows and PCs to a whole new world. This function is possible thanks to the integration of a virtual machine (via the "Windows Subsystem for Android").
Modernization of native applications: Windows 11 will benefit from several modernized applications installed out of the box, such as Microsoft Store (the certified application store), Notepad (Notepad), Media Player (new audio and video player), Clipchamp (video editing software , which allow you to export in HD), Sound Recorder (recorder) and Designer (graphic creation).
How do I know which version of Windows 11 I have?
If you want to verify that the update was successful and that you already have the latest version of the operating system, you can quickly check your current version of Windows. Just press Windows + R, type "winver" and click OK. Next, a window will appear with your version details and the version installed on your PC.
Other Windows questions? Check out our forum!